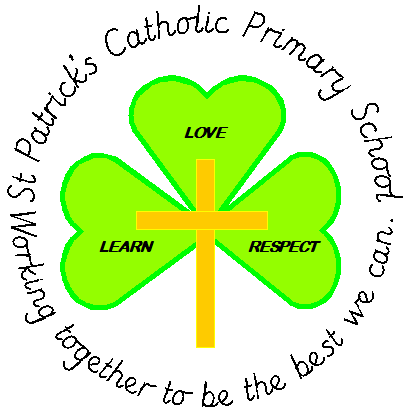 ST PATRICK'S VISION STATEMENT
St Patrick's will provide a safe, happy learning community where Teaching and Learning is of the highest quality promoting the attainment of personal potential – spiritually, academically, socially and morally. A place where everyone can encounter Christ in prayer, study, thought and action.
We would like to welcome you to the
St. Patrick's Catholic Primary School & Nursery website.
We hope you are able to find all the information you are looking for.
If there is anything you can't find, or indeed you would like to chat to someone you can contact us in the following ways
School office: Mrs Miles or Mrs Lester [email protected]
Headteacher: Mrs A. Goodison [email protected]
Telephone Number: 01785 356685
If you wish to make an appointment to see anyone in school, please do so through the school office.
Times of School Day

Reception to Year 6:
School starts at 8.40am (gates are opened and children can go straight to classrooms).
Registration 8.50am (it is expected that all children are in class for registration)
School finishes at 3.15pm (Reception Class finishes at 3.10pm)
Nursery – We run morning and afternoon sessions, which run between 8.45am – 11.45am and 12.15pm – 3.15pm.
Morning break time:10.45am – 11.05am
Lunch: KS1: 12.30pm - 1.20pm (All children are entitled to a free school meal)
KS2: 12.50pm - 1.40pm
Staff will take responsibility for pupils at 8.40am. Once the children have been dismissed at 3.15pm, they are then in the care of their parents/carers
| | | | |
| --- | --- | --- | --- |
| | | | |
| Nursery | Reception | Year One | Year Two |
| | | | |
| Year Three | Year Four | Year Five | Year Six |